29. 04. 2011
END OF THE TV SERIES "MIRROR OF POWER"
The production and broadcasting of TV series "Mirror of Power" was completed. ANEM realized this series in cooperation with the production company A-media and it was jointly supported by the National Endowment for Democracy (NED) and the Fund for an Open Society Serbia (FOSS).
TV series "Mirror of Power" dealt in an informative and educational way with the topics related to the problem of corruption in our society.
During five months of broadcasting on 26 ANEM TV stations, viewers throughout Serbia  had the opportunity to see ones a week a total of 20 ten-minute long episodes of the series, that throuh specific stories talked about the various forms of corrupt behavior and a possible sources of corruption.
Considering corruption as one of the key issues for the democratization of society and establishing the rule of law, by producing the TV series, through a media campaign, ANEM aimed at increasing awareness of citizens about the problem of corruption and its specific forms, as well as at encouraging them to get involved into the fight against corruption and improving control of the work of public office holders.
The episodes were recorded throughout Serbia and realized with the engagement of two journalists from Belgrade and journalists from local media. With this engagement, ANEM has sought to contribute to their professional qualities, and to encourage local media to be actively involved in investigative journalism and the topics related to this issue.
The episodes had premiere broadcasting in the period from December 2010 until April 2011 on ANEM regional and local TV stations. After the broadcasting, ANEM published on its web site 15 selected episodes, allowing them to be accessible to even more people. Also, in the newly opened section "Polls" on the home page of the web site, the first poll and the next few will be related to this series. By participating in these polls, all visitors will be able to vote for the best episode of the TV series "Mirror of Power".

Although the premiere broadcasting on ANEM stations was ended, selected episodes of the series will still be available on our website in the section Production/Mirror of Power.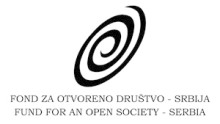 This TV series is realized with the financial support of the National Endowment for Democracy (NED) and the Fund for an Open Society, Serbia (FOSS).