09. 05. 2012
ANEM HONORED WITH MEDAL FOR THE CONTRIBUTION TO THE CAMPAIGN "BATTLE FOR THE BABIES"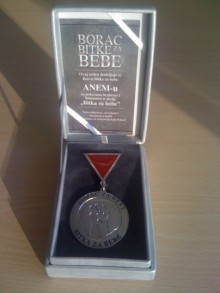 On Wednesday, May 9, 2012, at the ceremony held at REX Cultural Centre, on awarding the donors of the campaign "Battle for the babies", ANEM president Sasa Mirkovic, received the medal for the recognition of contribution of ANEM stations to this humanitarian action.
The reason for this ceremony was the purchase of the 200th incubator in this charity, whose original goal was to provide 100 incubators for health centers nationwide.
We recall that starting from September 1, 2011, ANEM, has joined this B92 Fund humanitarian action by providing media support to the campaign with large number of ANEM TV and radio stations across Serbia for raising funds for the purchase of new incubators. ANEM stations aired video clips and radio jingles of the campaign free of charge and thus greatly contributed to the success of this action.
32 ANEM member stations supported this campaign, namely 24 TV and radio stations and 8 RTV media outlets that aired TV video spot and radio jingle. We thank the following ANEM stations for their humanity and support: TV Cacak from Cacak; TV Pozega from Pozega; NTV 017 from Vranje; TV Valjevo from Valjevo; TV Smederevo from Smederevo; Radio Pozega from Pozega; Radio Bus from Kovin; Radio Leskovac from Leskovac; Radio Kontakt Plus from Kosovska Mitrovica; Radio Vrbas from Vrbas; Radio M plus from Mladenovac; JP Radio NB from Novi Becej; Radio Patak from Valjevo; Radio Ozon from Cacak; Ivanjicki radio from Ivanjica; Radio Plus 010 from Pirot; Radio Ok from Vranje; Radio Uzice from Uzice; Radio Kikinda from Kikinda; Radio Ema from Bujanovac; Radio City from Nis, Radio Cacak from Cacak; Radio Luna from Uzice; Radio 021 from Novi Sad; RTV YU ECO from Subotica; RTV Caribrod from Dimitrovgrad; RTV Prima from Bajina Basta; RTV Stara Pazova from Stara Pazova; RTV Sumadija from Arandjelovac; RTV Ok from Kovacica; RTV Trstenik from Trstenik and RTV VK from Kikinda.